Rachel's out of the hospital and studying for finals. If a doctor had tried to tell us on Tuesday that by Thursday Rachel would be out of bed for anything other than the bathroom, I would have had them forcibly removed from my presence. Not that I didn't want her up and around, it just felt very improbable. But here we are. I catch myself stopping mid-step and just looking at her with my head tilted and mouth opened seriously wondering if this past week was just some kind of weird time-jumpy thing that was supposed to be wiped from my memory. But I remember and now that Rachel is all safe and sound, I can breathe- yay!
And sleep. I certainly wasn't getting much sleep on the torture device provided by the hospital.
I'm pretty sure the thing was stuffed with misery and old, rusted fish hooks.
Not that I had the opportunity to stay still for any large span of time. Without fail, as soon as I'd sit down, Rachel would need something – Bathroom! I'm hot. I'm freezing. Hold my hand. I need pain medicine. My feet aren't covered. – I jumped to fulfill every need possible. It's like I had some weird chemical release happening that allowed me to function through exhaustion and my own wicked pain. Why can't they figure out what that chemical is and bottle it? Seriously, science guys, who's working on that?
Whatever that chemical was, it has left the building. I'm spent.
Saturday morning, before this whole hospital thing, Rachel was packing up her stuff on campus and bringing a car load home. She wasn't excited about carrying it up the stairs, so she tried flying it…
Five days of crazy and now, we're pretty much back to normal. I'm going to research if there was a TARDIS sighting in the area.
Now back to our regularly scheduled programming!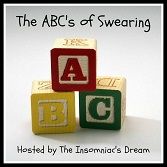 I think it's H day. I'll be taking y'all through the alphabet with some German swear words. You're welcome.
American German – language lesson #59
Heilige Scheisse! (high-leg-a shy-sa) Holy shit! This one is fun to say and describes my past week perfectly.
Margret: You can't write this! That is a bad word in Germany. A very bad word.
Me: It's not a bad word in the US. So, technically, since I'm in Arkansas, I'm not offensive. It's a bad word loophole.