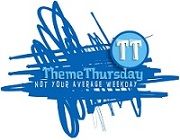 Yep, I'm posting for Theme Thursday on Friday. If you're new here, this kind of thing happens all the time.
What am I proud of?
So, what am I proud of? I had to stew on this one a bit. There are some obvious answers…my kid, my husband, sisters, brothers, mom, dad, etc. I'm proud of all of those people for things that they have accomplished, some of their stories are flat out amazing, but what am I proud of that I have accomplished? Me. On my own. This might be hard.
So I called my sister
Me: What am I proud of?
Sherli: What? I don't know. All that crap you did. You did a lot of crap. In your 20's, you were up someone's ass you shouldn't have been so that took away 10 years, but in the midst of that you raised this amazing, smart kid. Not everyone could do that. Doesn't it have to be about your kid because seriously, what else was there? Jeez, this is depressing. I haven't done anything.
Me: Oh, I can think of a million things you've done.
Sherli: Really? Wrong?
Me: (laughing) No, goober. You did a million things right but this isn't about you.
Sherli: Ok…let me think…you have accomplished a lot in the face of your horrid illness. You raised a daughter, had an amazing career, lived in Germany. That's incredible. Oh, you took your nieces to Europe. They may have never been able to experience that without you.
Me: Ok. That's something.
Sherli: You invented the sash belt. You taught yourself double talk in 7th grade. You never contracted an STD. There are no mug shots of you hanging in any post office. You made shopping at thrift stores cool. You bought a house for mom (She rented it from me, so I'm not that awesome). You've never killed anyone and you would have been totally justified to kill at least two people that I know of. You let the nephews stay with you every summer. All of your pets have been rescued from shelters.
Me: All true. I forgot what a trendsetter I was.
Sherli: There's more. You're one of the bravest people I know.
Me: You've got to be kidding. Are you high? Remember when I started the blog and I would make you read every post and then I'd hide in the closet after hitting the publish button having what may have been a minor panic attack? I was terrified. That's the opposite of brave.
Sherli: No it's not, because even with all of that, you still hit the publish button.
Me: Are you about to quote somebody famous? I might throw up.
My baby sister is a freaking genius. And while I think 'brave' is a stretch (My brother in Afghanistan is brave so I have a hard time associating myself with that word.) I am definitely proud of myself for starting this blog. I was panicked and terrified and hiding under the covers every time I hit the publish button. Frankly, I still feel all of those things before hitting the publish button but every day it's just a little bit less intense than the day before. That's something.
American German – language lesson #63 The ABC's of Swearing Editions – We're going through the alphabet learning German swear words, y'all.
I've fallen a bit behind. I know, shocker. So here are the M and N editions. It's N day, right?
Magerschwanz (ma-ger-shvanz) skinny cock. Not to be confused with Pimmelstift (pim-mel-stift) pencil dick. Pimmel is NOT the German word for pencil. I learned that the hard way.
Muschi (moosh-ee) pussy. What kind of friend would I be if I didn't teach you the German word for pussy? A bad one. This word reminds me of muesli. That gives a whole new meaning to granola.
Nutte (newt-ta) hooker. N was a bit boring but you got bonus M words so it all works out.